President's Message
I often tell people I have the best job in town. I then see a quick look of confusion in their eyes before the conversation continues. They doubt how the daily fight against hunger could ever be enjoyable.

But I stand behind it. With a great staff, supportive Board of Directors and generous donors like you, I really do think I've got a pretty good gig. Looking back on all our impressive work in FY16, it's become even more clear that Eastern Illinois Foodbank is changing lives by bringing food — and hope — to our neighbors in need.

It is reiterated to me on a daily basis — through a donor call or a pantry visit or a talk with a local legislator — that our work is important and desperately needed by one in every seven people in our community.

Welaunched our Retailers Against Hunger program, partnering with almost 40 local stores to rescue nearly 2 million meals in the first year alone. In February 2016, we opened a pantry at the Champaign-Urbana Public Health District, utilizing a food-as-medicine approach.  Delivering healthy meal options and 'food prescriptions' to clients as they visit their health care providers — brilliant!

Last year, we distributed a record 8.6 million pounds of food, including 1.6 million pounds of fresh produce. When I took this job eleven years ago, I only hoped we'd reach numbers of this level.

Without your support, these innovative strategies and overall growth wouldn't be possible. Your donations enable us to meet our mission of alleviating hunger and nourishing stronger communities. Thank you for believing in our work and generously supporting it. The Foodbank continues to explore creative opportunities that enhance our ability to reach the one in seven people locally who struggle with food insecurity. It is my hope that one day, my job won't be needed. For then we really would have won in the fight against hunger.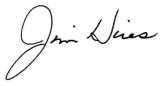 Jim Hires
President & CEO, Eastern Illinois Foodbank